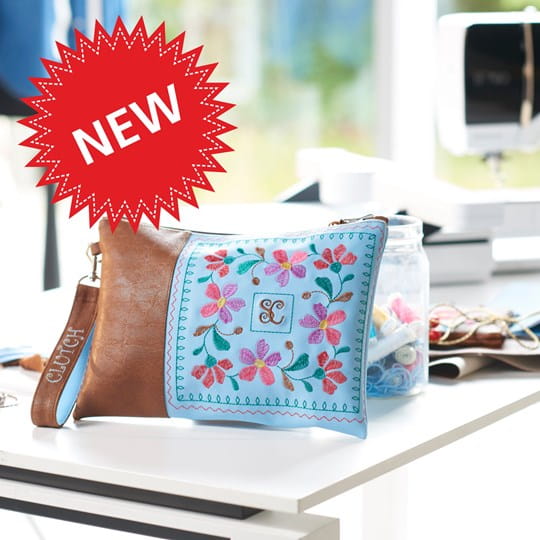 BERNINA 790 PLUS: The perfect machine for Grand Ideas
Beautiful embroidery every time
Place your design exactly where you want
Clean embroidery results on the top
Intuitive & very easy to use
The B 790 PLUS is enriched with exciting embroidery features like Pinpoint Placement, Enhanced Editing Functions, Total Embroidery Stitch Control and much more.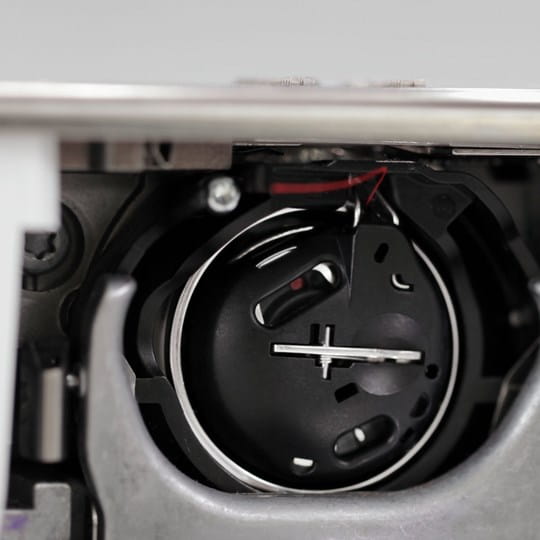 Quiet & precise sewing
Ideally suited for decorative stitches
Sew & embroider for longer periods of time
More time for your creativity

The BERNINA Hook sews high-precision stitches up to 9 mm in width with speeds up to 1,000 stitches per minute. The bobbin holds 70% more thread than standard bobbins.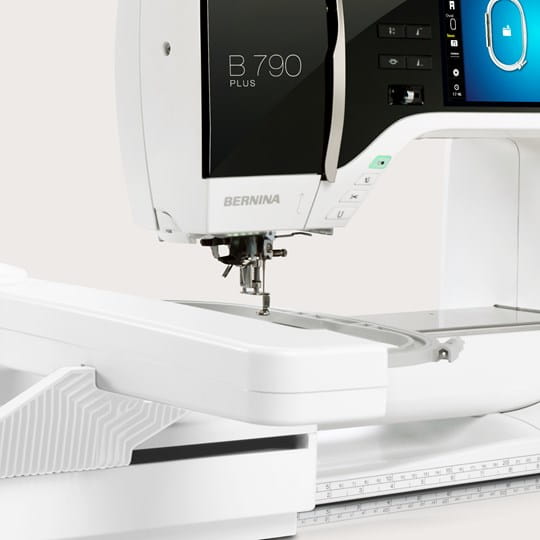 A lot of space just for you
Embroider maxi-sized motifs with ease
Comfortably maneuver large projects
Designed for the Maxi Hoop

The B 790 PLUS offers a full 13-inch extended freearm including ten inches of space to the right of the needle. Enjoy a large sewing and embroidery area.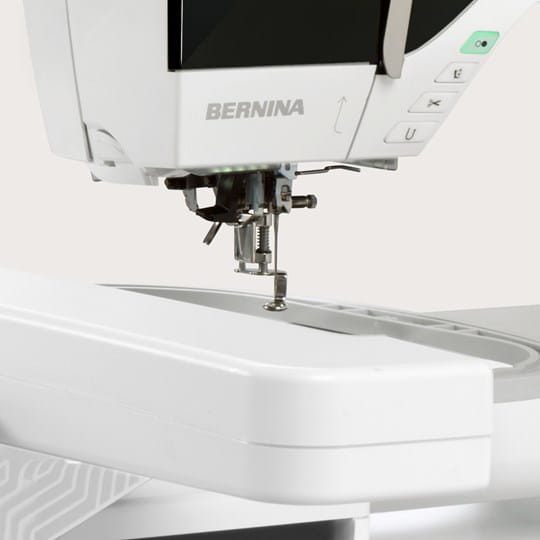 Automatic features are yours!
No manual cutting at the end of a seam
Enjoy semi-automatic threading
No manual lowering of the presser foot

Thread is cut automatically when you reach the end of a seam or a color change in embroidery. The presser foot lowers automatically at the beginning of a seam.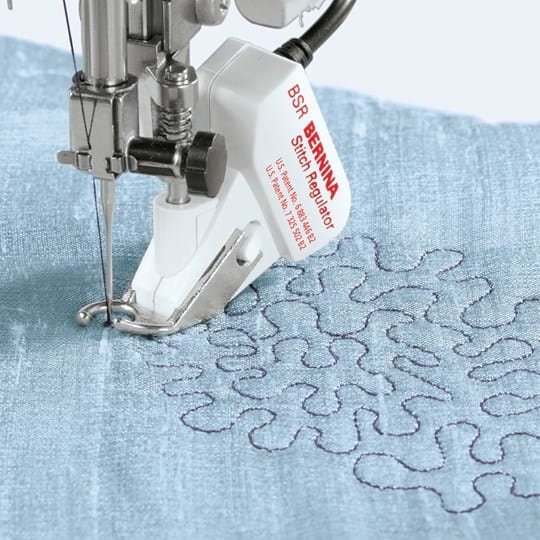 Love the BERNINA innovations
Achieve finest stitching results
Stitches are kept consistent
Assistance with free-motion sewing

The BERNINA Adaptive Thread Tension provides ideal thread tension for each and every stitch type, in any variation. The BERNINA Stitch Regulator guarantees precise stitch quality and results.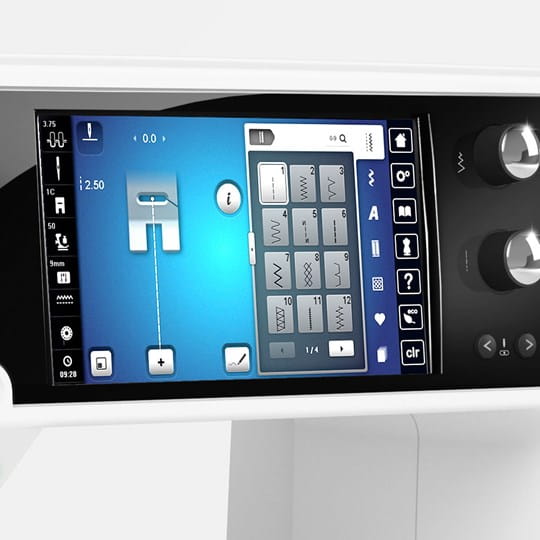 Ask your on-screen support
Ask how much stabilizer you need
Find the proper needle and foot
about sewing and embroidery

The Sewing and Embroidery Consultants and the built-in tutorials offer direct on-screen support and answer your questions whenever you need them.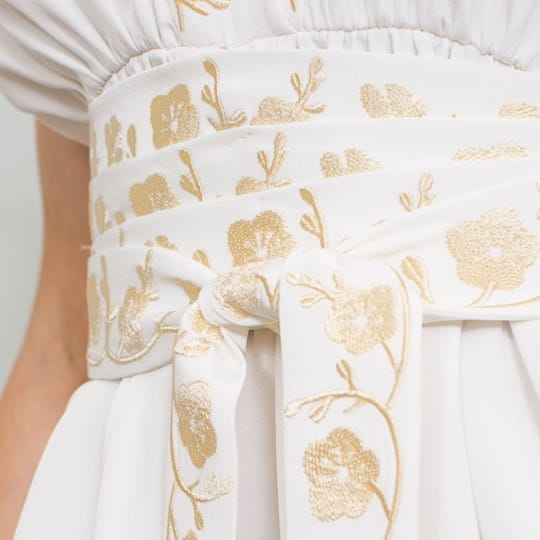 Sew silk & leather like a pro
Handle special materials with ease
Enjoy superb fabric feed
Optimum visibility while sewing

The innovative BERNINA Dual Feed is easily engaged when needed and tucks completely out of the way when it's not.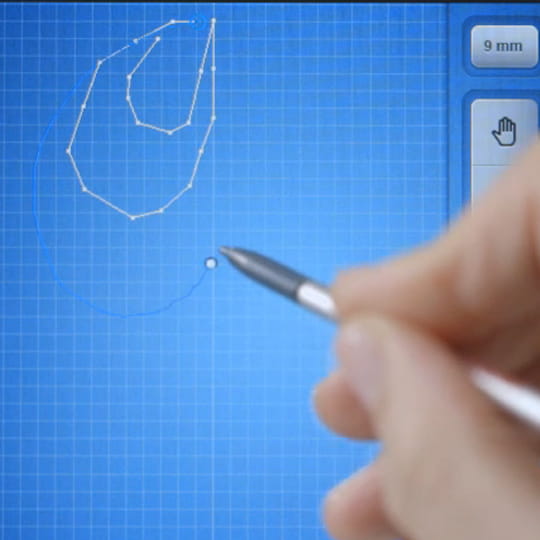 Create your personal stitch
Design & create your own stitches
Draw your stitch design directly on the screen
Convert the design into a stitch pattern

Edit stitches and create your own. The creative possibilities are endless and your stitch library is continuously expanding.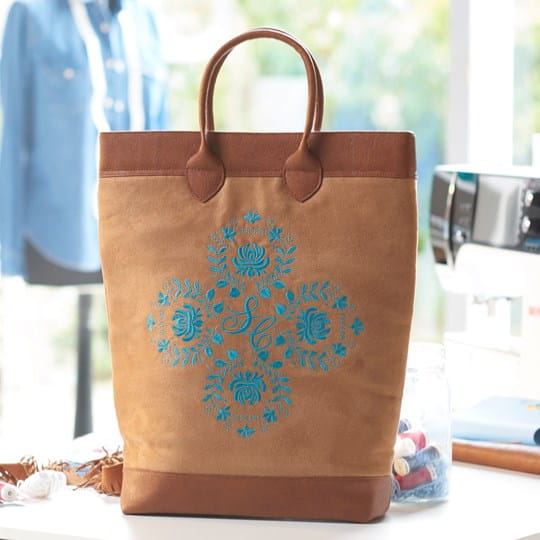 Enjoy embroidery at its best
Switch to embroidery mode with one click
Edit any design with ease
Position the design precisely

Complex design combinations can be re-sequenced according to color. Save the finished design on the machine or on a USB stick.
The B 790 PLUS - perfect for embroiderers!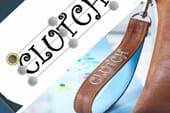 Pinpoint Placement
Place your design on the fabric exactly where you want it.
No need to use the template anymore.
Easy to use: Simply select two points and match them with the markings on the hooped fabric.
Perfect results quickly and precisely.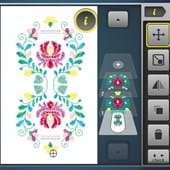 Enhanced Editing
Undo & Redo: Simply undo or redo steps while editing or combining designs to return to your initial position.
Group & Ungroup: Combine designs to edit all at one time with group. Break apart designs to edit individually with ungroup.
Rearrange: Customize the design layer stitch-out sequence. Use rearrange in combination with the group function.

Total Embroidery Stitch Control
Thread Away Mode: Pulls the threads down to the underside for clean embroidery results on the top. Program jump stitch length to manage thread cuts. Subject to design properties. No more manual trimming on the top side needed.
Invisible & Smart Secure: Securing stitches become invisible as the tie-on/off stitches are sewn in stitch direction. Smart secure adds tie-on/off stitches to a design, if none are preset.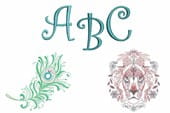 Bonus Embroidery Designs & Alphabets
Dozens of new embroidery designs, including: monograms with frames, in-the-hoop projects and special technique designs.
Includes nine newly digitized embroidery alphabets such as Curly, Happy Times, Deco and Rounded.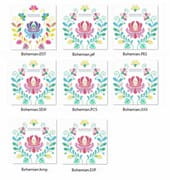 Intuitive & very easy to use
Embroidery Consultant: For each embroidery technique the consultant helps you to choose the correct foot, needle, thread and stabilizer according to your fabric to achieve the best results.
Toggle between mm & inches: The embroidery design size and the hoop dimensions can be shown in mm or inches.
Reads most popular file formats: EXP, DST, PES, JEF, PCS, SEW, XXX.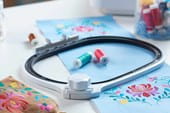 Optional Midi Hoop
Enjoy embroidering with the BERNINA Midi Hoop, guaranteeing quick and perfect embroidery performance.
Very easy to hoop and unhoop
Get full tension on your fabric
Waste less stabilizer
Ergonomic twist-lock mechanism
Size: 10.5 x 6.5 inch, 265 x 165 mm
Included Accessories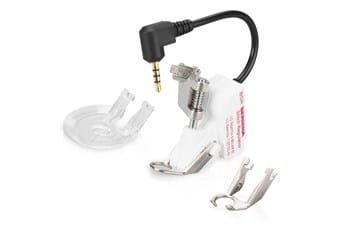 BERNINA Stitch Regulator (BSR)
The BERNINA Stitch Regulator (BSR) adapts precisely to your current sewing speed to produce absolutely consistent stitching.

Reverse-pattern foot #1C
Reverse-pattern foot #1C is the ideal presser foot for sewing forward and reverse-feed utility and decorative stitches.

Reverse-pattern foot #1D
Reverse-pattern foot #1D is the ideal presser foot for sewing forward and reverse-feed utility and decorative stitches.

Overlock foot #2A
Overlock foot #2A lets you neaten seams easily and sew high-quality hems, waistbands and overlock seams on knit fabrics.

Buttonhole foot with slide #3A
Depending on the model, Buttonhole foot with slide #3A determines the desired buttonhole length for identical buttonholes either via a sensor or manually.

Zipper foot #4D
Thanks to its narrow, centrally positioned toe, Zipper foot #4D can stitch very close to the zipper coils, allowing it to sew the zipper on neatly.

Blindstitch foot #5
Blindstitch foot #5 is designed for sewing blind hems on all fabric thicknesses for a barely-visible finish.

Jeans foot #8D
Jeans foot #8D produces neat straight-stitched seams on tough, heavy fabrics such as denim, leather or canvas.

Open embroidery foot #20C
Open embroidery foot #20C is ideal for embroidering with your sewing machine. The indentation in the sole of the presser foot allows it to glide smoothly over dense stitches.

Drop-shaped embroidery foot #26
Thanks to its special tear-drop shape, Drop-shaped embroidery foot #26 allows you to embroider with the embroidery module and to darn delicate fabrics.

Sideways-motion foot #40C
Sideways-motion foot #40C enables multi-directional sewing, and allows you to sew out large sideways motion stitch patterns.

Free-arm slide-on table for more sewing space
The BERNINA Free-arm slide-on table offers greater comfort thanks to an increased sewing area, without affecting free-arm function when sewing.

Knee lifter/Free-Hand System (FHS)
The Knee lifter/Free-Hand System (FHS) lets you raise the presser foot and lower the feed dog with your knee. Recommended particularly for appliqué or any project requiring pivoting and getting bulky projects under the presser foot easily.

Embroidery module L
Embroider creatively like a pro - with the Embroidery-module bag L you can live out your creativity on the extra-large embroidery surface.

Small embroidery hoop
The Small embroidery hoop is a whiz at embroidering tubular items such as sleeves or pant legs.

Medium embroidery hoop – for medium-sized designs
The Medium embroidery hoop is a useful tool for the accurate embroidering of medium-sized projects with the BERNINA embroidery machine.

Large oval embroidery hoop
The Large oval embroidery hoop is suitable for both design combinations and extensive embroidery designs. The template makes quick work of accurately positioning the project in the hoop.